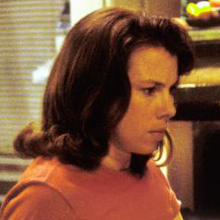 Tiffany Yelnats is Stanley Yelnats IV's mom and
Stanley Yelnats III
's wife, When Stanley's dad found a cure for the shoe odor, they sold it and then they got money, and used it to afford a lawyer and then got their son,
Stanley IV
out of Camp Green Lake. Then when Stanley's dad opened the treasure from
Stanley Yelnats I
, everybody gasped then, they gave half of the money to Hector Zeroni and he used the money to hire people to track down his mom and to buy a house next to the Yelnats. In the film she is portrayed by Siobhan Fallon Hogan.